piano lessons irvine. Australian Piano Method Has Students Of All Ages Playing Great-Sounding Songs Immediately From Their Very First Lessons
Dear Potential Parent/Student,
Chances are we've never met, but I'm willing to bet you fall under one of following categories:
You're tired of spending your hard earned money on piano lessons in Irvine, CA for your child. You are not getting the results you want. And you're about to give up.
You took piano lessons as a child, but eventually quit because it wasn't any fun. Now your kids are interested in piano lessons, but you don't want them to go through what you went through.You want to scream out loud: "CAN SOMEONE TEACH MY CHILD TO PLAY THE PIANO, BUT NOT THE WAY I WAS TAUGHT?"
You want your child to have a rich experience in both depth and breadth of music so that they can play different types of music, not just classical.
You want your child to have a large repertoire of great-sounding songs that they can play anytime, anywhere without having to rely on sheet music.
You yourself are looking for a better, easy way to learn piano.
If your child is taking traditional piano lessons in Irvine and not getting the results you want, it's not your fault.
The fact is most people find the traditional method slow and frustrating.
Traditionally, students learn to read notes first before they can play. To be able to read music is a valuable skill.Unfortunately, many students quit way before they are proficient at reading.
A Refreshingly Different Kind Of Piano Lessons
At Dancing Keys Music Studio our piano lessons are quite different from the other guys. What separates us from other piano lessons in Irvine are the method, the practice app and the Power of Two accelerated practice strategy.
The Method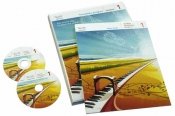 As opposed to the reading-based approach that most piano teachers teach, we use a playing-based method called Simply Music. The Simply Music method allows students to play immediately.
We teach students how to play the piano by immersing them in the process of playing right from the get-go. Reading is delayed until the second year.
This play-first, read-later approach allows students to relate directly to the piano. And it focuses on the sheer fun of playing the piano.
Students are led through a unique 'playing-based' process that is simple to learn, easy to follow and immensely satisfying.
As a result students are able to play great-sounding songs with both hands together from their very first lessons.
The philosophy behind this approach mirrors that of learning a spoken language. We all learned how to talk long before we went to school to learn to read and spell. Learning music is no different.
It is, after all, also a language.
Within months students will comfortably establish a natural connection with the instrument and build a diverse repertoire that includes contemporary, classical, blues and jazz music.
They will also learn accompaniment, improvisation and composition skills. By the end of their first year of lessons, they will have acquired 30 – 40 great-sounding songs in their active repertoire.
They will discover that they have the ability to learn piano easier and more natural than they ever thought possible. Instead of learning notes, they learn strategies or learning clues.
These learning clues will allow them to easily memorize songs. They will experience the absolute joy that comes from playing a huge repertoire of music that they can play anytime, anywhere without having to rely on sheet music.
The learning clues will also come in handy when they start reading music.
After establishing a strong foundation of playing a large repertoire of music in a variety of styles, students go on to learn to read music.
And because they are strong players at this point, it becomes easier to learn to read music.
When they've been playing many songs in different styles and understand the strategies behind them, they will eventually make the connection between what they're playing and what's written on the page.
The Practice App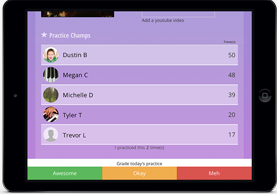 All of our students have access to the Better Practice App. Originated and co-founded by our very own teacher/owner Alex Nguyen, the app helps students keep track of their practice and holds them accountable.
Tracking practice with paper is a thing of the past. With this app it's all done online. Plus, students do not need to think what they need to practice first or last. They don't even need to use any kind of system. The app does that for them. A freshly customized daily practice list is ready for students to use, courtesy of the app's Smart Recommendation Engine.
It also makes practicing fun, social and engaging. Parents really appreciate the app because it requires less hand holding and "policing" at home.
 "I really like the Practice App a lot. It makes practice less of a chore for both the parent and the child."
Tu-Uyen Nguyen, parent
The Power of Two Accelerated Practice Lab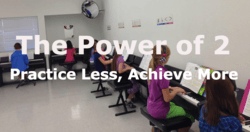 The Power-of-Two is our proprietary, one of a kind lesson-practice combo that will have you rethinking about music lessons and practice.
While the Better Practice App addresses the HOW of practice, the Power of Two zooms in the WHEN of practice.
By structuring lessons and practice in a strategic way, the Power-of-Two allows our students to practice less and achieve more.
It was discovered by Alex Nguyen and backed by research in the field of cognitive psychology. Only available at Dancing Keys Music Studio, you'll not find this anywhere else.
For a more detailed explanation about this innovative Power-of-Two concept, watch our video presentation.
Can All This Really Work?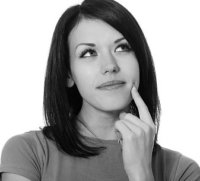 The combination of the playing-based method, the practice app and the Power-of-Two accelerated practice strategy program gives us a unique opportunity to help you learn the piano.
Students get to play great-sounding songs immediately, retain more of what they learn, all the while practice less and achieve more. Parents are having less stress managing their children's practice at home.
But don't take our word for it. Here's what some of what our parents and students have said about us.
My 12 year old daughter had been taking challenging, traditional piano and theory lessons for many years before transitioning to Dancing Keys Music Studio.

She memorized many classical pieces but couldn't remember them after the recital. After taking lessons with Giana for 6 months she is so much happier to be learning so many new genres of songs and singing along with them.

Recently she went to a birthday party with 10 active girls and she went right to the keyboard and played a new pop piece and a jazzy holiday song and her friends came over to sing with her.

I was thrilled that she was so comfortable to perform in front of friends without being asked. She also enjoys daily practicing and seeing her progress with the tracking app on the iPod.

Her classically trained and talented teacher keeps her challenged and motivated to improve each week. I also really like that they encourage parents to watch the lessons and be involved with your child.

I would encourage anyone to try this method of piano as my child enjoys ALL types of music so much more now.
Rhonda B.
Irvine, CA

​I prefer this method of teaching because my daughters get to practice immediately after class and over this past several months, I've seen such a noticeable difference in my daughters and how they retain the new piano lessons better.

They also get a chance to practice the following day under your supervision and this is when they get a chance to ask questions and improve their skills.

I also like the fact that I didn't have to constantly ask my daughters to practice piano, especially after a new piano lesson. Overall, I think this a great method and great outcome. Great job!
Narges
Irvine, CA 

I was offered to join the first group of Beta Testers of the Power of Two for the second half of my first year.  I was amazed at the progress!  It was so helpful to practice immediately after my lesson.  I initially thought I would be too tired.

But my lessons actually energized me and I was eager to try out my new pieces and exercises before I forgot them.  This also carried over to my practice sessions at home.

I spent less time trying to remember what I had learned and more time on just practicing my weekly lesson.  The Power of Two model adds proficiency to an already very effective teaching program.
Linda Francis
Santa Ana, CA  

My eight-year-old daughter continues to develop her piano skills and her musical intelligence and confidence. The teachers/owners of DKMS provide opportunities for students to perform in diverse venues which really helps my daughter develop her confidence in front of different audiences.

They also have a practice app which has made practice SO MUCH EASIER for me as coach and engaging for my daughter as student!
Thuy Vo Dang
Irvine, CA
Technology and new discoveries are changing the way we do things, including the way children learn and how teachers teach. At Dancing Keys Music Studio we pride ourselves on innovation and constant improvement.
As a parent, you have a lot to think about when it comes to piano lessons for your child: the method, the teacher, the cost, to name a few. But one thing is certain: children are more likely to make music a lifelong companion if they enjoy the process of learning.
If you're tired of the same old piano lessons in Irvine and would like to experience something drastically different that brings immediate and long term results, visit our studio and find out more.
We invite you to come to one of our Free Introductory Sessions. It's about 45 minutes long and there's no obligation whatsoever. By the time it's done, you'll know everything about our trifecta of success: the method, the practice app and the Power-of-Two accelerated practice strategy.
You'll even experience a hands-on demonstration and see for yourself about the method.
It's also a chance for us to meet you and your chance to find out who we are. We are not about churning out concert pianists. We are interested in maximizing the likelihood of playing music as your lifelong companion. With us you're not just paying for piano lessons, but also for peace of mind and the assurance that your child is in good hands.
Give us a call at (949) 734-3567 to schedule your FREE Introductory Session today. You can also register online by clicking on the button below.
Sincerely,
Alex Thai Nguyen
Co-owner, Dancing Keys Music Studio
www.dancingkeys.com
(949) 734-3567