Meet Our Teachers
GIANA NGUYEN, owner ~ Advanced Simply Music Teacher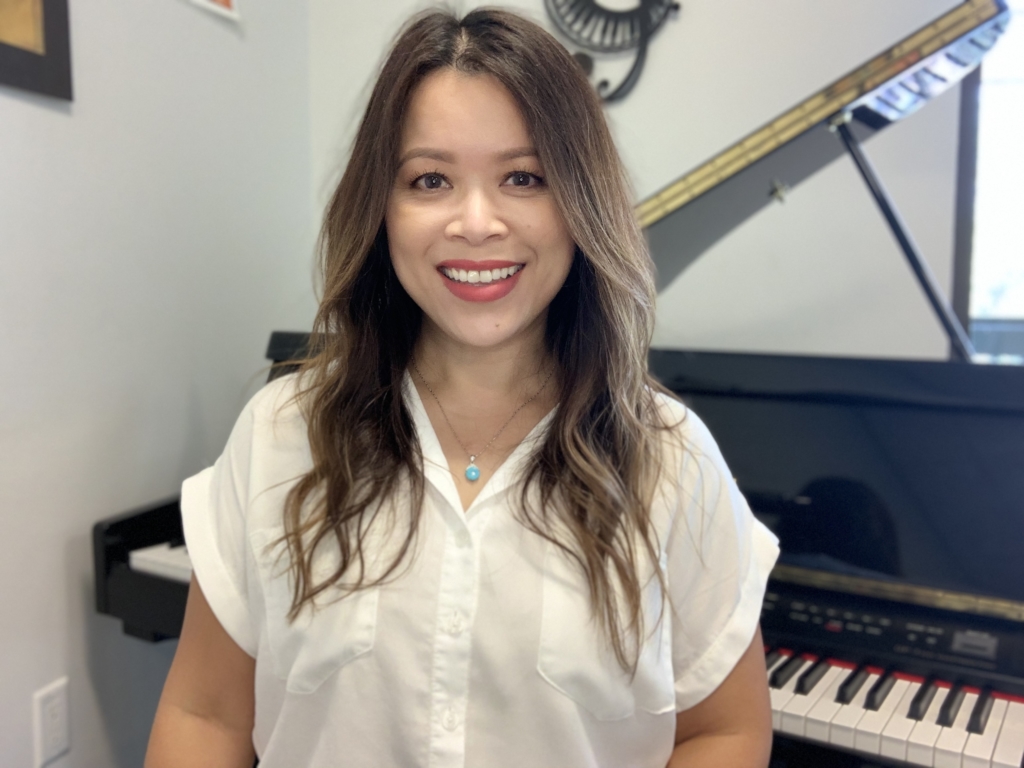 Giana is a professional singer/songwriter and is a member of the American Society of Composers, Authors and Publishers.
Growing up, she studied classical music for over 9 years and subsequently taught piano in private and semi-private settings from 1999 – 2007. At that time, she broke away from music to focus on her then career in the health care industry.
However, in 2011 she re-routed her path back to music when she started teaching piano again; independently released her debut solo album, "For Now;" and left her career in health care to pursue her passion as a singer/songwriter.
Her music has garnered recognition by new media makers around the world, and she was a nominee in the 2011 Hollywood Music in Media Awards for "Best Pop Song" and the 2012 All Indie Awards for "Best Pop Artist." In 2015 she released 2 singles, "Sing" and "If We Knew Then." She recently released her 2018 E.P. "GiANA" which contains a new collection of 5 originals and 1 cover song. Giana's music can be found on all digital platforms and featured on various playlists and podcasts.
Giana has performed at notable venues such as the House of Blues in Los Angeles, the Whisky A Go-Go in Hollywood, and at the Honda Center in Anaheim where she sang the U.S. national anthem for the Anaheim Ducks and the Los Angeles Lakers. In the local community, Giana has performed in 8 CHOC Follies musicals to support CHOC Children's Hospital. She is a former board member of 8 years with the Vietnamese American Arts & Letters Association (VAALA).
​
Since music has played such a major role in Giana's life, she also has a passion to pay it forward to students of all ages. In March 2013, she teamed up with two partners, Alex Thai Nguyen and Stephanie Chang Sumule to open Dancing Keys Music Studio in Irvine, CA. Now with 20 years of experience working with students of all ages, she is ecstatic to teach Simply Music Piano, a method that she believes in to create well-rounded musicians and brings a holistic approach to playing piano.
VICTORIA JONES ~ Certified Simply Music Teacher (Qualified)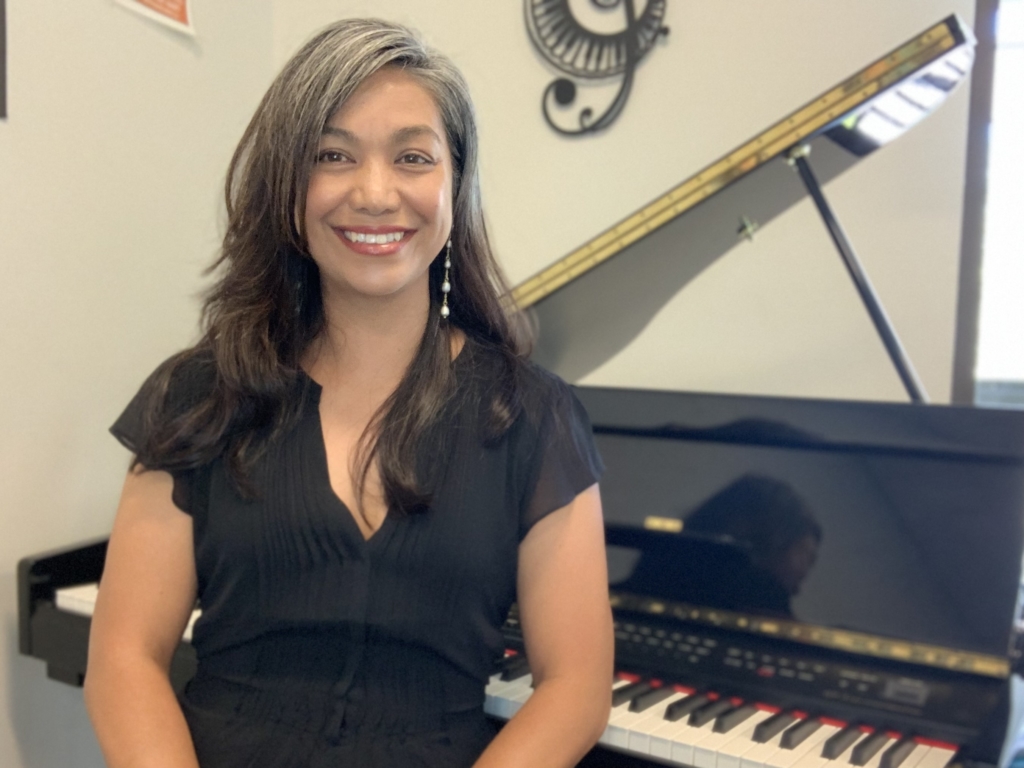 Victoria was working at an investment firm when she decided to jump ship and find a career with more creativity and flexibility.  In hindsight, she realized that she had always felt a pull towards music.  One of her fondest memories was touring Scandinavia with her high school Glee Club.  So, she enrolled in a guitar workshop and piano lessons at the Dancing Keys Music Studio…and the rest is history.
Victoria is now a teacher and budding musician hoping to share her passion and bring happiness to people through music. 
As a current student and adult learner, she brings a fresh perspective and is a powerful testament to the success of the Simply Music program.
As an Irvine piano teacher at Dancing Keys Music Studio, she believes that music provides light and expansion for the soul. And her goal is to give that gift to each and every student.
HONG-AN NGUYEN PHAM ~ Licensed Simply Music Teacher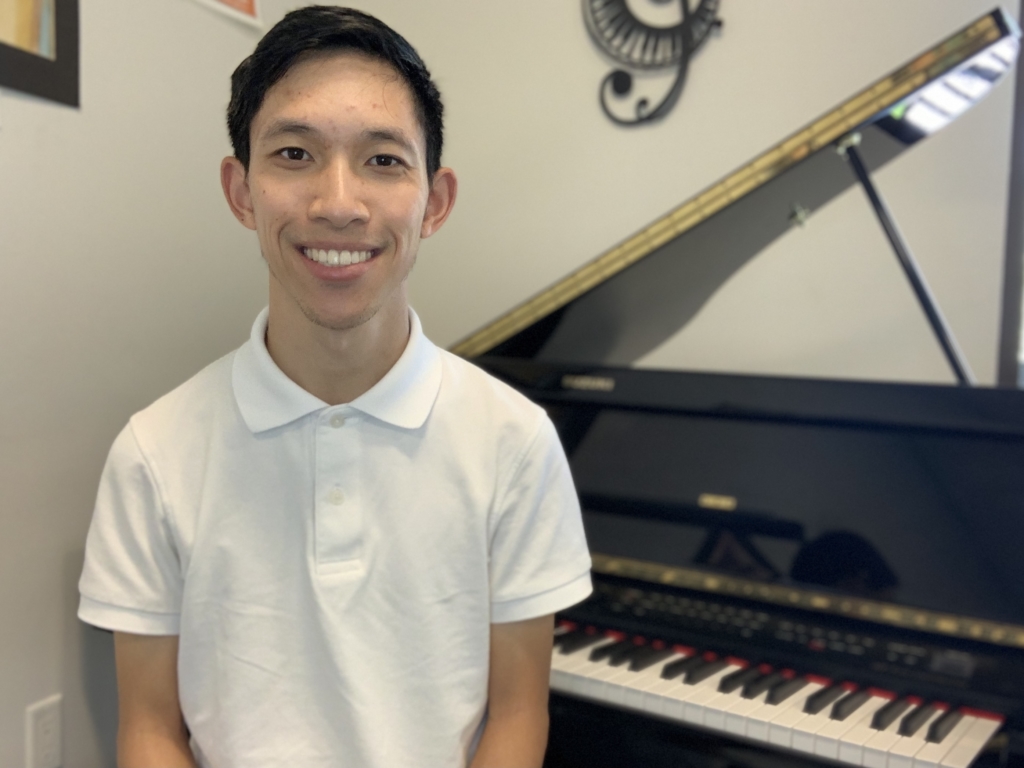 Hong-An is currently a part-time music student at Golden West College as well as a Licensed Simply Music Instructor at Dancing Keys Music Studio. One of the things he loves about working at Dancing Keys Music Studio is having the opportunity to teach other students about music and pass on the experience and knowledge he has gained as a former Simply Music student himself.
In the coming years, he hopes to continue his academic education in Los Angeles, pursuing a Bachelors degree in music composition. His biggest aspiration is to become a Hollywood film composer, combining his love of both music and movies.
In his spare time, Hong-An enjoys doing graphic design and photography. He also likes to go for walks and work out daily. He is currently pursuing an interest in parkour and would like to include archery as a new hobby.